Built for your senses.
The Beerust watch case was designed to meet the highest standards of today's watch collectors.
The materials and the quality of the manufacture are intended to generate great visual and tactile enjoyment.
Just as we expect precision and quality of materials in our watches, we also want the Beerust case to meet these characteristics.
We want Beerust boxes to be the ideal place to store and protect the best watches in your collection.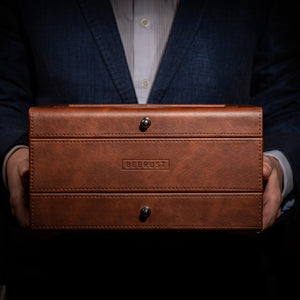 Technical Details
- External material: high quality Pu Leather.
- Internal material: high quality velvet.
- 8 watch slots, 10 watch slots and 12 watch slots
- Drawer with 4 compartments.
- Pillows sizes: 2.2" pillows wide, 6.5" minimum wrist size.
- Translucent window made of acrylic glass (methyl methacrylate)
- 1.54" clearance between pillows and glass
WHO ARE THE CREATORS OF BEERUST?
BEERUST is made up of a small group of people with over 20 years of experience in the watch industry. We are watch lovers and collectors.
Two years ago we realized the need in the market for a high-quality watch cases at an affordable price for everyone. So we decided to put our knowledge into practice to create a case that met our high standards both technically and aesthetically.
Testimonials
I have a dozen watches that were just laying around. Now they all go
into this slick box, protected from scratches. Think about it; my
watches total around $7000, and this box is a fitting storage for them.
Nice leather and workmanship; no rough edges.


Bob Allen
I bought this watch box as an anniversary gift, fortunately it arrived on time and my husband was very happy, luxury finish.


Jennifer Miller
A well built watch box, hinges work well. I am happy I purchased.

Henry Wilson
TALK TO US:
Email:
procurement2@kalpor.com