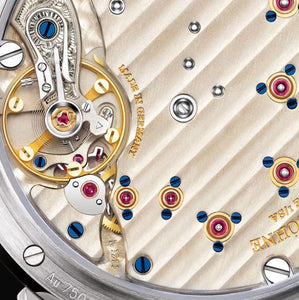 German Horology Masterpieces: Unveiling the Timeless Elegance of the Top 3 Iconic Watch Models


When it comes to fine watchmaking, the German watch industry boasts a rich heritage of craftsmanship, precision, and attention to detail. Among the myriad of luxury timepieces, three watches stand out as true icons: the Lange 1 from A. Lange & Söhne, the Senator Excellence from Glashütte Original, and the Tangente from NOMOS Glashütte. In this article, we delve into the exquisite features, design prowess, and the storied history behind these German horological masterpieces.
A. Lange & Söhne Lange 1: Timeless Innovation

The Lange 1 is an epitome of innovation and aesthetic finesse. Launched in 1994, this masterpiece from A. Lange & Söhne revolutionized the watch industry with its asymmetric dial layout. The iconic off-centered hour and minute sub-dial, along with a small seconds sub-dial and a large double-window date display, creates a harmonious visual balance that is unique to the Lange 1.

Crafted with the finest materials and meticulous craftsmanship, the Lange 1 features a manually wound movement that ensures exceptional accuracy and a power reserve of up to 72 hours. The watch's stunning design, combined with its unparalleled technical precision, has made the Lange 1 a timeless favorite among watch connoisseurs.

Glashütte Original Senator Excellence: Elegance and Performance
Glashütte Original's Senator Excellence collection exemplifies the perfect blend of timeless elegance and high-performance functionality. This line of watches is equipped with the brand's in-house automatic movement, the Calibre 36, renowned for its reliability and precision.

The Senator Excellence showcases a classic design with a clean and refined dial, featuring Roman numerals, a date window, and elegant leaf-shaped hands. The watch's slim profile and comfortable fit make it an ideal choice for both formal occasions and everyday wear.

NOMOS Glashütte Tangente: Minimalistic Charm

NOMOS Glashütte's Tangente collection is the epitome of minimalistic charm and Bauhaus-inspired design. These timepieces are celebrated for their clean lines, slender profiles, and straightforward dials.


The Tangente features a manual-winding movement, developed in-house by NOMOS Glashütte. With meticulous attention to detail, each Tangente watch embodies the essence of German watchmaking craftsmanship. The watch's understated elegance and versatility have made it a popular choice among enthusiasts seeking a classic and enduring timepiece.


The Lange 1 from A. Lange & Söhne, the Senator Excellence from Glashütte Original, and the Tangente from NOMOS Glashütte are three iconic German watch models that exemplify the pinnacle of horological excellence. Each timepiece represents a unique combination of innovation, elegance, and craftsmanship, reflecting the distinguished heritage of German watchmaking.

Whether you appreciate the avant-garde design of the Lange 1, the classic elegance of the Senator Excellence, or the minimalist charm of the Tangente, these watches are more than just timekeeping devices; they are masterpieces that embody the spirit of German watchmaking.

As you embark on your journey to acquire a horological masterpiece, remember that these watches are not merely accessories but artifacts of precision, passion, and tradition. So, embrace the allure of German horology and elevate your collection with one of these timeless wonders.
---